WikipediaViz: Conveying Article Quality for Casual Wikipedia Readers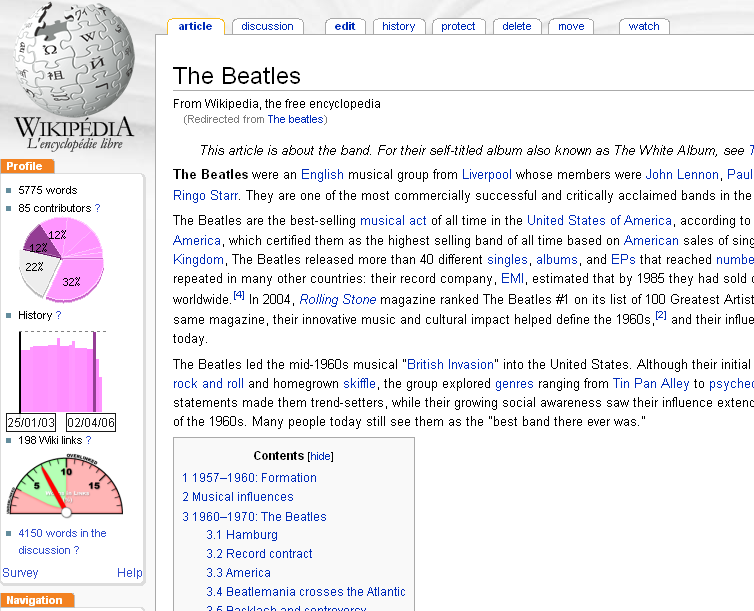 Description
As Wikipedia became one of the most used knowledge base worldwide, the problem of the trustworthiness of the information it disseminates has become central, especially when considering casual readers that may not be aware of the online encyclopedia principle (anyone can edit, volatile information, etc.).
With WikipediaViz, we introduce five thumbnail visualizations that aim to keep casual Wikipedia readers aware of important information about the articles they read and to raise potential quality issues. The design of WikipediaViz was inspired after conducting two participatory design sessions with expert Wikipedia writers and sociologists. They explained the clues they used to quickly assess the trustworthiness of articles.
Papers
F. Chevalier, S. Huot and J.D. Fekete WikipediaViz: Conveying Article Quality for Casual Wikipedia Readers PacificVis '10: IEEE Pacific Visualization Symposium, 10 pages, March 2010, Taipei, Taiwan, pages 49-56, March 2010. IEEE Press.
IEEEXplore entry

HAL INRIA entry
F. Chevalier, S. Huot and J.D. Fekete Visualisation de mesures agrégées pour l'estimation de la qualité des articles Wikipedia EGC '10: Conference Internationale Francophone sur l'Extraction et la Gestion des Conaissances, 12 pages, January 2010, Hammamet, Tunisia. (in French).
HAL INRIA entry
Demo
See our French wikipedia mirror (Wikipedia archive, June 2008)
Contact