Gliimpse is a quick preview technique that smoothly transitions between document markup code and its visual rendering. It allows users to regularly check the code they are editing in-place, without leaving the text editor. This method can complement classical preview windows by offering rapid overviews of code-to-document mappings and leaving more screen real-estate.
Article
Pierre Dragicevic, Stéphane Huot, Fanny Chevalier. Gliimpse: Animating from Markup Code to Rendered Documents and Vice Versa. In UIST 2011: Proceedings of the 24th ACM Symposium on User Interface Software and Technology. ACM, pages 257-262.
ACM DL entry

HAL INRIA entry INRIA
See also the related work Diffamation
Video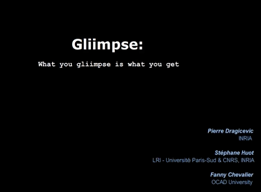 Watch a low-quality version on
Slides and Short Videos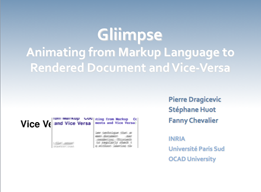 Demo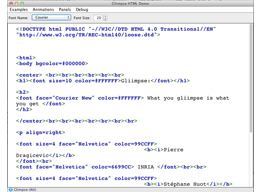 Please read the Readme.txt file for instructions. Double-clicking on the jar won't work.
How to use ant (Mac OS X and Windows)
Acknowledgements
This research was supported by INRIA and the Centre for Innovation in Information Visualization and Data-Driven Design (CIV-DDD).
Part of the Gliimpse video is based on Andrew Roberts' LaTeX Tutorial.
Contact
E-mail all co-authors