Immersive Analytics is a new multidisciplinary initiative to explore future interaction technologies for data analytics. Immersive Analytics aims to bring together researchers in Information Visualisation, Visual Analytics, Virtual and Augmented Reality and Natural User Interfaces.

Call for papers

Due to the recent advances in immersive technologies (VR, AR, large displays, tangible surfaces, etc.), we see new opportunities to using these technologies to analyse and explore data. Visual analytics is concerned with analytical reasoning facilitated by interactive visual interfaces. This definition is agnostic of the actual interface devices employed by visual analysis systems. Nevertheless, the affordances of the display and input devices used for analyzing data strongly affect the experience of the users of such systems, and so, their degree of engagement and productivity. However, a systematic approach to developing visual analytic tools that move beyond the desktop is yet lacking.

In this call, we are looking for innovative research, design, and view-points, mature or work-in-progress, that fall into or are related to the following topics: Real-world VA/AR, Collaboration, Hybrid 2D/3D, Affordances for Immersion, Changing Technologies, Application Areas, Platforms and Toolkits. We call this new research thrust ``Immersive Analytics", a topic that will explore the applicability and development of emerging user-interface technologies for creating more engaging experiences and seamless work-flows for data analysis applications. More info here.

#immersive2017 Tweets
Accepted Papers
Accepted Posters
Submission Info
The type of contributions can include, but is not limited to, the following:
Descriptions of novel techniques.
Systems supporting specific scenarios or workflows and variety of of visualizations and interaction techniques.
Toolkits provide solutions for specific aspects in developing analysis systems for immersive environments or provide better integration.
Studies and evaluations of all types both for gathering feedback on techniques and other aspects in immersive environments, such as context, tasks, devices challenges and interaction modalities, etc.
Surveys of existing techniques, implementations, devices, modalities, for immersive visualization.
Theory and models both new and adaptations of existing models to the immersive context.
Positions and Reflections are encouraged to create a critical discourse on novel visualization and interaction technologies
Submissions can be of any length from 2 to 4 pages in standard IEEE TVCG format (conference), in proportion to the contribution: work-in-progress, latest breaking news, or mature research.
| | |
| --- | --- |
| Paper Submission deadline: | July 23, 2017 (midnight PDT) |
| Paper format: | IEEE TVCG, conference |
| Submission length: | 2 - 4 pages (including references) |
| Submission website: | http://precisionconference.com/~vgtc > new submissions > Submit to Immersive2017. |
| Review Process: | 3 peer reviews each. Single-blind mandatory, double-blind optional. |
| Presentation: | ~10 minutes at Workshop (depending on paper length). |
| Registration: | Participants must be registered at for the specific day at the VIS conference. |
| Final reviews: | ~August 16, 2017 |
Schedule
The workshop will be on Sunday, October 1 in 102-ABC.
If you want to join the group discussions, here is the link to the discussion/question form for the workshop.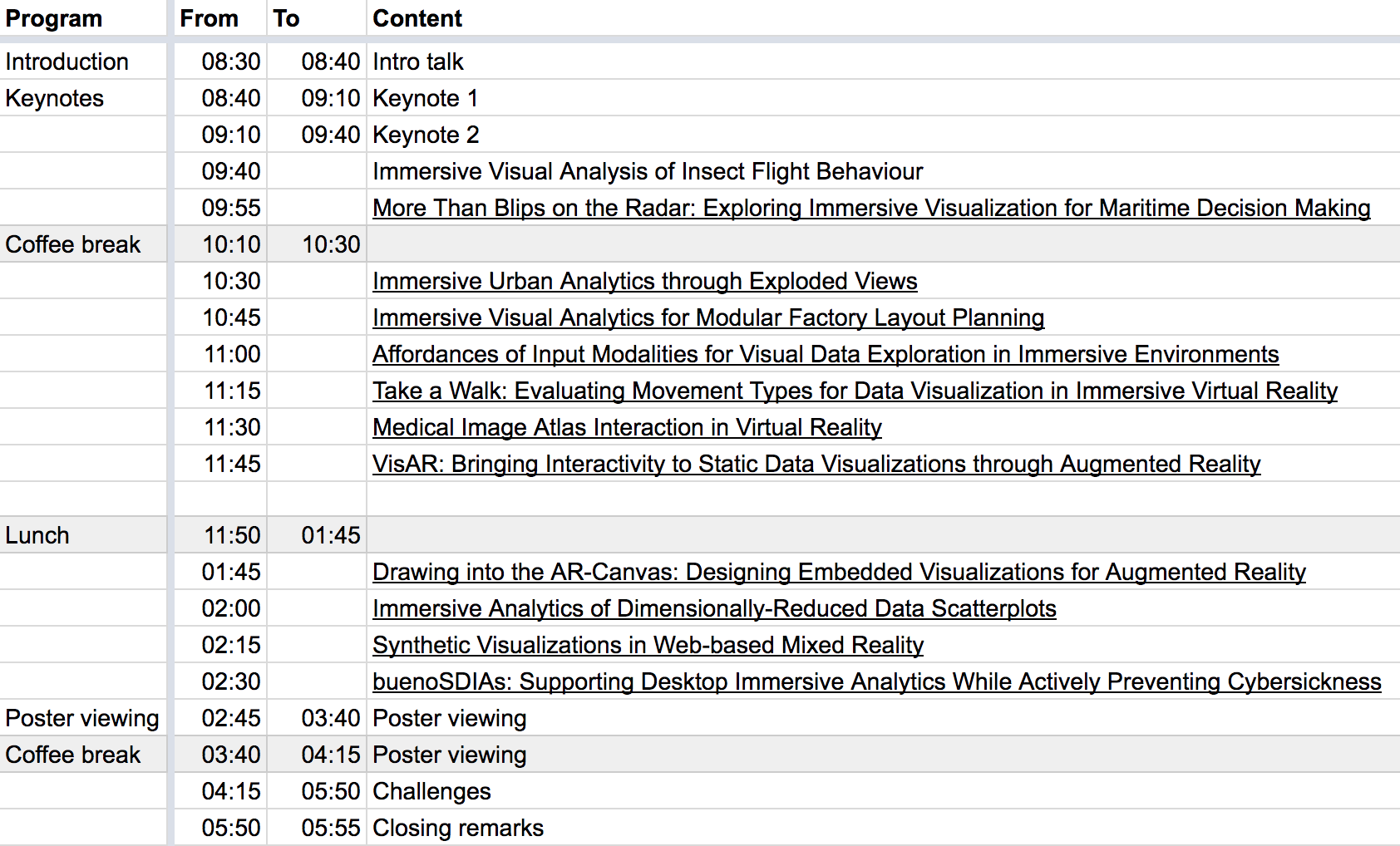 Keynote 1: Daniel Keefe: Experiential Analytics: From Large-Scale Public Art to Immersive Visualization---When to Walk Inside Your Data
Abstract: The technical barriers to immersion are all but gone today, but the question remains---is it a good idea to immersive yourself in data? I mean quite literally, does it ever actually make sense to stand inside a large-scale virtual (or physical) data visualization and walk through your data? In this short talk, I'll reflect on several recent immersive visualization projects by my group and our collaborators, some immersive virtual reality data visualizations as well as two large-scale public art installations. In each case, the special ingredient that makes each work as an example of immersive analytics is the need to not only analyze the data but also to experience it via a first-person perspective. Thus, I wonder if we should be calling immersive analytics something more like experiential analytics. How do we understand and design for this experience? How do we quantify it? When is it essential and for whom? Are there counter examples where it is unnecessary and slows down the analytical process? I hope this talk will inspire reflection and discussion on these topics and the exciting future of immersive analytics, as clearly evidenced by this year's workshop.
Bio: Dan Keefe is an Associate Professor in the Department of Computer Science and Engineering at the University of Minnesota. His research centers on scientific data visualization and interactive computer graphics. Keefe's recent awards include the National Science Foundation CAREER award; the University of Minnesota Guillermo E. Borja Award for research and scholarly accomplishments; the University of Minnesota McKnight Land-Grant Professorship; and the 3M Non-tenured Faculty Award. He shares multiple best paper awards with his students and collaborators, and his research has been funded by the National Science Foundation, the National Institutes of Health, the National Academies Keck Futures Initiative, the US Forest Service, and industry. In addition to his work in computer science, Keefe has also published and exhibited work in top international venues for digital art. Before joining the University of Minnesota, Keefe did post-doctoral work at Brown University jointly with the departments of Computer Science and Ecology and Evolutionary Biology and with the Rhode Island School of Design. He received the Ph.D. in 2007 from Brown University's Department of Computer Science and the B.S. in Computer Engineering summa cum laude from Tufts University in 1999.
Keynote 2: Niklas Elmqvist: Towards Ubiquitous Analytics: Reflections on Two Decades of Anytime, Anywhere Sensemaking Research
Abstract: I was born 10 years too early, or at least, my Ph.D. research was. Fresh from a hobby career as a 3D game programmer, I entered research in 2001 with a burning desire to employ 3D graphics to data visualization. Unfortunately, at the time, VR and AR hardware was still not ready, and I eventually grew disillusioned of the fallacies of 3D on a 2D screen. We have come full circle, and the pendulum has swung back towards integrating visualization in 3D environments, but this time, the technology is there. In this talk, I will reflect on some of the hard-won lessons I have learned from this topic, starting from the 3Dwm window manager, my forays into 3D visualization and virtual environments, and my recent focus on what I call ubiquitous analytics: the ability to make sense of data anytime and anywhere.
Bio: Niklas Elmqvist is an associate professor in the iSchool (College of Information Studies) at University of Maryland, College Park. He received his Ph.D. in computer science in 2006 from Chalmers University in Gothenburg, Sweden. Since 2016, he is the director of the Human-Computer Interaction Laboratory (HCIL) at University of Maryland, one of the oldest and most well-known HCI research labs in the country. His research area is information visualization, human-computer interaction, and visual analytics. He is the recipient of an NSF CAREER award as well as best paper awards from the IEEE Information Visualization conference, the ACM CHI conference, the International Journal of Virtual Reality, and the ASME IDETC/CIE conference. He is papers co-chair for IEEE InfoVis 2017, associate editor of IEEE Transactions on Visualization and Computer Graphics, the International Journal of Human-Computer Studies, and the Information Visualization journal, and co-editor of the Morgan and Claypool Synthesis Lectures on Visualization. His research has been funded by both federal agencies such as NSF, NIH, and DHS as well as by companies such as Google, NVIDIA, and Microsoft. He is also the recipient of the Purdue Student Government Graduate Mentoring Award (2014), the Ruth and Joel Spira Outstanding Teacher Award (2012), and the Purdue ECE Chicago Alumni New Faculty award (2010).
Topics (Detail)
Changing Technologies and Scenarios: What are the lessons that we can learn from previous research into the use of 3D visualization for information visualization? Do the new technologies invalidate the current wisdom that it is better to use 2D visualization for abstract data since the designer of the visualization has complete freedom to map data to an occlusion-free 2D display? How do we perceive, interact, collaborate, annotate, communicate with visualizations in the forthcoming decades?
Hybrid2D/3D: Traditionally, 3D visualizations have been used in the physical sciences, engineering, and design while 2D visualizations have been used to display statistical and abstract data in information visualizations. Increasingly there is a need to combine both sorts of visualization in holistic visualizations. For instance, in the life sciences different aspects of a cell are displayed using 2- and 3D images, 2D network data and the various omics. Can these new technologies support more holistic visualizations of such data incorporating 3D spatial information as well as abstract data?
Affordances for Immersion: What are the "tricks" and affordances such as high-resolution displays, sound, touch, novel hard- ware and responsive interaction that change the user perception from an allocentric view of the data to a more egocentric and immersive view of the data?
Collaboration: Much research has been devoted to computer- assisted collaboration both synchronous and asynchronous, local and remote. In contrast, only few research and formal user studies have investigated collaborative visualization of abstract data in immersive environments. The new devices and environments potentially support new models for collaboration as shown in Figure 1. Collaborative Immersive Analytics can be supported, for example, by CAVE-style environments, the use of Virtual Reality HMDs, or Mixed Reality HMDs. This heterogeneity of technology involves a lot of variation on the type of collaboration and raise important research questions. How do these different environments scale with increasing number of participants? What paradigms are potentially enabled by these new interaction modalities? Can new technology bring distant collaborators closer together?
Physical and Tangible Visualization: Being part of the real world for a long time, physicalizations and dynamic visualizations have become interactive through electronics, tactility, and fabrication mechanisms. How do data physicalizations integrate into immersive scenarios and with other immersive technologies?
Interaction Techniques: Which interaction and interface design advances are needed to foster a heightened sense of immersion? The interaction techniques incorporated in existing desktop-based visualization tools introduce interface elements such as menus and widgets that act as mediators between users and the visual representation. However, due to recent advances in immersive technologies, we envision the need for new interaction techniques and designs that support direct user involvement with visualization elements rather than communication through an intermediary. This ranges from the use of novel technologies to create these interactions, to augmenting existing UI designs to foster more engaging user experiences with traditional hardware.
Real-World VA and Applications: What are the most fertile application areas for visualization? For example, these could be in life-sciences, climate science, disaster and emergency management, astronomy, personal visualization, archeology, Air Traffic Control and Management, and many more. What questions do technologies like AR raise for visualization? Traditional information visualization supports open-ended exploration based on Shneiderman's information mantra: overview first, zoom and filter, then details on demand. In our view a different model is required for analytical applications grounded in the physical world. In this case objects in the physical environment provide the immediate and primary focus and so the natural model is to provide detailed information about these objects and only provide contextual information on demand.
PC Members
Anastasia Bezerianos, University Paris-Sud / CNRS / Inria, France
Doug A. Bowman, Virginia Tech, USA
Wolfgang Bueschel, Dresden University of Technology, Germany
Jian Chen, University of Maryland Baltimore, USA
Steven Drucker, Microsoft Research, USA
Carla Freitas, Federal University of Rio Grande do Sul, Brazil
Nathalie Henry Riche, Microsoft Research, USA
Christophe Hurter, ENAC, France
Karsten Klein, Konstanz University, Germany
Kim Marriott, Monash University, Australia
Emmanuel Pietriga, Inria, France
Eric Ragan, Texas A and M University, USA
Gerik Scheuermann, University of Leipzig, Germany
Falk Schreiber, Konstanz University, Germany
Ronell Sicat, Harvard University, USA
John Stasko, Georgia Tech, USA
Wolfgang Stuerzlinger, Simon Fraser University, Canada
Aurelien Tabard, University Claude Bernard, France
Bruce Thomas, University of South Australia, Australia
Aaron Quigley, University of Saint Andrews, UK
Reads: What happened since the workshop and outside
Min Chen, Kelly Gaither, Nigel W. John, Brian McCann:
Cost-benefit Analysis of Visualization in Virtual Environments
arXiv, 2018
Maxime Cordeil, Andrew Cunningham, Tim Dwyer, Bruce H Thomas, Kim Marriott:
ImAxes: Immersive Axes as Embodied Affordances for Interactive Multivariate Data Visualisation
ACM UIST, 2017
Benjamin Bach, Ronell Sicat, Johanna Beyer, Maxime Cordeil, Hanspeter Pfister:
The Hologram in My Hand: How Effective is Interactive Exploration of 3D Visualizations in Immersive Tangible Augmented Reality?
IEEE TVCG, 2018
Community
Below we list groups and projects interested in Immersive Analytics; feel free to contact them. If you want to be listed below as well, email us your tag:
My description with a link and another link